#
Drexel University PA
Nurse Anesthesia Program
Drexel University is one of 12 CRNA schools in Pennsylvania.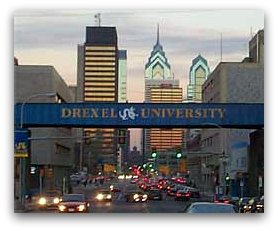 Drexel University PA
Nurse Anesthesia Program
1601 Cherry St 3 Parkway Building 6th Floor MS 61051
Philadelphia, PA 19102
Lewis Bennett, CRNA, DNP, Program Director
fax: (267) 359-5735
Suzanne Ariza, Assistant Clinical Professor
28 months, full time
90 quarter credits, the Post-Master's Certificate requires 72 quarter credits
First week in January
April 14, 2017, for the January 2019 cohort. Applications received after April 14th will be considered on a space available basis.
Interviews are held throughout the year. If you are invited for an interview, you'll be notified of acceptance approximately two to four weeks after the interview. If accepted, you may take M.S.N. core courses on a part time basis until beginning the program full time.
Tuition is calculated at the 2016-2017 rate. Tuition at most schools increases each academic year. Over the duration of the program, expect to pay a tuition that is 5% to 15% higher than what is shown here.
*Fees and expenses: $8,270
*This includes the cost of health insurance, books and supplies, test fees and miscellaneous school expenses.
Are you concerned that Drexel University PA's Nurse Anesthesia Program won't give you the specific experiences or training you need to be a successful CRNA? Learn what standards CRNA Programs must meet in order to be accredited by the Council on Accreditation of Nurse Anesthesia (COA).
This CRNA program (as well as all others that are accredited by the COA) prepares you to take the CCNA certification exam at the conclusion of the program, allowing you to become a CRNA.
The program is integrated, offering clinical and didactic education concurrently throughout the program.
All of the graduate nursing core courses for the nurse anesthesia department are offered online with some blended virtual class requirements. All anesthesia-related coursework is taught at Drexel University PA's Center City campus in Philadelphia or via teleconferencing for students located in central Pennsylvania.
" The overview of nurse anesthesia course offered in the first quarter is complemented by a simulated clinical experience in which small student groups practice basic anesthesia skills, including:
induction, maintenance and emergence process
hands-on practice in airway management.
regional anesthesia techniques.
"For the subsequent four quarters, advanced concepts of nurse anesthesia practice are taught to provide the fundamental knowledge base needed to augment students ability to tailor the anesthetic management based on the patient s physiological and pathophysiological state.
"Clinical Practicum : The nurse anesthesia clinical practicum is offered at one of several sites located in the tri-state area. Under direct supervision of anesthesiologists and/or certified registered nurse anesthetists, students administer all types of anesthesia, including sedation during monitored anesthesia care, general anesthesia, and regional anesthesia. Students also gain experience inserting various types of invasive monitors and performing alternative airway techniques.
"Additional clinical subspecialty rotations provide:
obstetric experience.
cardiac experience.
neurosurgical experience.
three-month pediatric clinical experience.
"As an elective, students contemplating specializing in pediatric anesthesia may apply to complete an additional month s pediatric rotation at the Children s Hospital of Philadelphia.
"Students administer a minimum of 650 anesthetics and average more than 1,500 clinical hours.
"Clinical sites range from 0-90 miles from the university. A reliable vehicle is necessary and parking is available at all clinical sites. Some clinical sites offer free student housing during the clinical rotation."
Looking for something specific? Find CRNA schools categorized by their unique requirements.
Some CRNA schools require much more out of their applicants than others. See how the requirements at Drexel University PA compare to most CRNA school's requirements.
CRNA Program Requirements
Required Bachelor Degree
A Bachelor of Science in Nursing degree is required from a CCNE or NLN accredited program. If you have a bachelor's degree in a related science discipline and wish to be admitted to the CRNA program, you will be required to complete the BSN bridge program (it consists of 3 courses).
Licensed or eligibility for licensure as a registered nurse in Pennsylvania, New Jersey and Delaware.
A minimum of two years recent full-time critical care experience with:
Critically ill and unstable patients
Invasive hemodynamic monitoring
Ventilatory care
Pharmacologic management
Preferred areas include:
Coronary Intensive Care
SICU (Surgical Intensive Care)
MICU (Medical Intensive Care)
CVICU (Cardiovascular Intensive Care)
PICU (Pediatric Intensive Care Unit)
Level I Emergency/Trauma Unit are also acceptable
You can apply to the department if you are currently employed in critical care and will have the necessary two years of full time experience before the start of the program.
A minimum 3.0 (on a 4.0 scale) in both BSN and general science coursework.
Acceptable GRE/MAT scores. GRE or MAT scores required and taken within five years of application. Waived for GPA 3.5 or higher AND science GPA 3.25. Also waived for Post-Master's certificate applicants.
Applicants who have not received a degree in the United States are required to take the Test of English as a Foreign Language (TOEFL) or the IELTS test. An official score report must be sent to Drexel by ETS or IELTS; photocopies will not be accepted.
Shadow a Certified Registered Nurse Anesthetist for a day
"It is strongly recommended that you shadow a CRNA to observe current nurse anesthesia practice to ascertain that you are choosing to pursue a career of interest. The department is unable to provide this experience for potential applicants and recommend that you contact the anesthesia department at your place of employment or a nearby hospital that employs CRNAs."
CRNA School Rankings U.S. News World Report (2011)
2.8 out of 5.0. Ranked 41 out of 107 CRNA programs.
Accredited CRNA Programs are reviewed regularly.
Drexel University PA Nurse Anesthetist Program was last reviewed 05/2010. It was given the maximum of 10 years accreditation and will be reviewed again 05/2020. This shows that the program is in full compliance with the COA's accreditation standards.
Pass Rate for CRNA Boards at Drexel University PA
Please note: It is extremely rare for a student at any CRNA school to not eventually pass the exam. Most students who don't pass the first time pass the second. Very rarely does a person ever take it a third time. This statistic only measures how well the program prepares students to pass the test the first time around.
test takers: 94% Class of 2015
National average (2008): 89.9%
An average nurse anesthetist salary in Pennsylvania
Pennsylvania CRNA salaries are lower than the national average and range from $130k-$150k.
An average annual nurse anesthetist salary in the US is $163,467 (according to a 2008 study)
Rural average: $174,214
Metropolitan average: $164,148
Suburban average: $156,630
Average starting CRNA salaries range from: $110,000-$130,000.
All information given on this site about Drexel University PA s Nurse Anesthetist Program was taken directly from their website.
*This page was updated November 14th, 2016.*